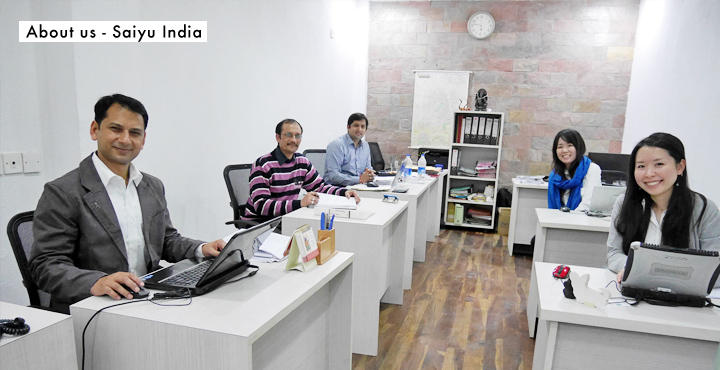 Greeting
Saiyu Travel is a Japanese travel agency established in 1972. Over the years we have evolved with numerous thrilling travel plans in Asia. Started off with Nepal, we now have tour plans for entire India and several unexplored regions in the rest of the world.
In 2006 we entered India by establishing our office in Delhi and acquired the label of Saiyu India private limited in 2009. Since then Saiyu Travel has seen monumental growth by arranging inbound and outbound travels plans across the country.  
Its dramatic growth is demonstrated by its recognition through the awarded "Prize of Incredible" of "Incredible India" from the Ministry of Tourism of the Government of India.
In Japan, Saiyu Travel has been able to establish itself as the superior Indian tour planning agency.
Encountering dramatic growth in November 2014, we moved to a better and bigger premise in MG Road Gurgaon focusing at the needs of our increasing business along with our guest houses and service counters.
All our efforts are concentrated towards meeting every demand and necessity of the client and expand our business portfolio in India, by offering more innovative and advanced tour packages using our experience, knowledge and desire of providing supreme services that we have developed so far.
Company Overview
Company name
Saiyu India Pvt. Ltd.


** Member of Indian Association of Tour Operators (IATO)             

Address
243, 2nd Floor, DLF City Center Mall, MG Road, Gurgaon, Haryana, India
Tel
(+91) 1244017901
Office hours
Monday to Saturday: 09:30 to 18:30


** Closed on every Sunday and public holidays

Established
December 11, 2009
Registered number
U63040DL2009FTC196803
Director
Mr Rajbir Rana, Ms Mariko TAKAHASHI
Admitted company

NCT of Delhi and Haryana

Our Service
We cater travel related services to the tourists from all over the world travel to India since its inception in 2009. Our prime focus is introducing variety of tour programs and provides the quality services in professional way. Safety, value of money and clients satisfaction is the priority and rule of the company.
Service offering
Since 2009, we have been encouraging tourists from around the globe to visit India through our engaging tour programs. Our prime focus lies in revolutionizing the travel industry by introducing new genres of tour programs and extending our services maintaining consistent and superior quality and professionalism.
We are committed to our customer's Safety and Satisfaction and offer value for money as our priority.
We extend following services as part of our programs-


1. Hotel Booking
2. Train & air tickets booking
3. Car & Coach rental
4. Package Tours.
5. Escorted & Individual trips
6. FIT/GIT fixed departures.
7. Outbound Tour Service

We specialize in constructing detailed plans for new and exciting destinations and composing an itinerary customized to complement majority of customer's interests and taste.
Our professionally trained staffs provide distinctive and personalized services, expert planning and takes care of all arrangements and coordination across India. We have developed an intense service network across countries of India, Nepal, Bhutan, Tibet and Sri Lanka. In India we have several travel associate partners in all major destinations. We pledge to ensure our customer's comfort, convenience and security irrespective of their travel type (escorted or independent)
Other Offices
Other Office
Saiyu Travel
Company Group

JAPAN - SAIYU TRAVEL CO.,LTD. (Saiyu Travel Company Group – Head office)


Adventurous or special interest outbound tours! We also arrange inbound tours for our Indian customers.
www : http://www.saiyu.co.jp/
[Tokyo Head Office]
3rd floor, Kyodo Bldg. Jimbocho,2-2, Kanda,Jimbocho,Chiyoda-ku,Tokyo, Japan
Tel :(+81)3-3237-1391


[Osaka Branch Office]
4th floor, Umeda East Bldg., 5-15, Taiyujicho, Kita, Osaka, Japan
Tel : (+81)6-6367-1391



NEPAL – Saiyu Nepal (Tour Operator)

Inbound services to Nepal for trekking/summiting and other sightseeing programs.
www : http://www.saiyunepal.com/
[Kathmandu Office]
Naxal Nagpokhari Ward No.1 Dhurga Bhawan, Kathmandu, Nepal
Tel: +977-1-4430967



PAKISTAN –SAIYAH(Tour Operator)

Inbound services to Pakistan for sightseeing and trekking tours to the Himalayas, the Karakoram and the Hindu Kush. We also arrange outbound tours for our Pakistani customers
www : http://www.saiyah.com.pk/
[Islamabad Office]
Office # 3, Ground Floor, Plaza 2000, I-8 Markaz,Islamabad,Pakistan
[Lahore Office]
Office #09, 16-M International Market, Model Town Extension, Lahore, Pakistan
[Karimabad (Hunza) Office]
Office # 6, Hill Top Market Karimabad -Hunza Northern Areas, Pakistan
Tel: (+92) 051-4861231, (+92) 051-4861232, (+92) 051-4861233



SRI LANKA – Nature Explorer Lanka (Tour Operator)

Inbound services to Sri Lanka specializing in sightseeing and nature tours.
www : http://www.nature-explore.com.lk/
[Colombo Office]
290, Orex City Shopping Complex, Ekala, Ja-ela, Sri Lanka,
Tel:(+94) 11 222 8450, (+94) 11 222 8451, (+94) 11 222 8452



AFGHANISTAN – Silkroad Bamiyan (Hotel)

A hotel in the scenic valley of Bamyan in the central Afghanistan.
www : http://silkroadbamiyan.com/
Tel: (+93) (0)798 405486